Rocky Marciano, The Brockton Blockbuster aka. The Rock
Rocky Marciano was born in Brockton, Massachusetts, on September 1, 1923 as son of Italian immigrants. After his military service he fought as an amateur twelve matches of which he won eight. In 1947 he became a professional boxer. Through continuous training and tough discipline, Rocky quickly developed one of the hardest punches in the history of boxing.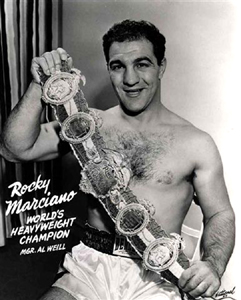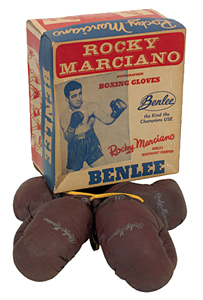 Up to today for many experts and fans, he is the worldwide all time greatest boxer. His incredible capacity to take hard hits on the chin, his fighting spirit, his fearlessness, his unrivalled determination to fight till the end, his complete preparation for every fight, his tremendous physical condition, and last but not least the terrific force of his 'right', called by Rocky lovingly "Suzie Q" that sent many - among whom Joe Louis - in the ring ropes, all these have formed the fame of the 'invincible' heavy weight champion Rocky Marciano, the 'Brockton Blockbuster', 'The Rock'.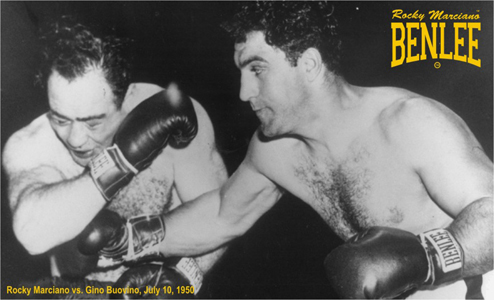 He behaved and kept behaving as a true gentleman: although he beat them all in the ring, he respected every one of his opponents and all respected him. His K.O. victory against 'Jersey' Joe Walcott in September 1952 made him heavy weight world champion and he succesfully defended this title six times. When retiring from boxing in 1956 his record counted 49 wins of which 43 by K.O. and not one loss. This makes `The Rock` the second heavy weight world champion - after Gene Tunney – in the history of boxing that retired unbeaten. He refused offers of many millions and rejected a comeback.
He was the example for Sylvester Stallone in "Rocky", but he was not able to see this movie anymore. He died on the 31st of August 1969 in a crash with a small airplane near Newton, Iowa, and was buried at Ft Lauderdale, Florida. His record of fights is unrivalled. Rocky Marciano fought with BENLEE boxing gloves and wore BENLEE boxing trunks.
Visit our BenLee Shop for a wide range of contemporary sportswear and authenic boxequipment of this legendary brandname.